We are Bureau veritas s/ISO 9001:2015 Certified.
Over the last few years, we have made great strides in this area. We have been able to internalise the requirements of our most demanding clients and translate them into our daily working procedures.
During the manufacturing stage, we ensure that we product with all controls online to guarantee the quality of the product, laser feelers/pneumatics, machine vision, etc.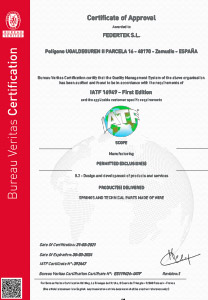 We have the resources needed to validate the product:
Automatic load meters.
Torsiometer.
Angles projector.
Digital microscope.
100%-load and length for pressure springs control unit.
Fatigue test bench for pressure, torsion and tension springs.
With FEDERTEK, the new production centre, we have obtained the IATF 16949 certification which establishes the particular requirements for the application of the ISO 9001 Standard for assembly-line production and original spare parts in the automotive industry.

The main aim of the IATF 16949 Standard is continuous improvement, putting emphasis on the prevention of defects and waste in the supply chain. For this reason the standard ensures that automotive components, parts and safety systems fulfil the requirements specified by customers as well as applicable regulations.